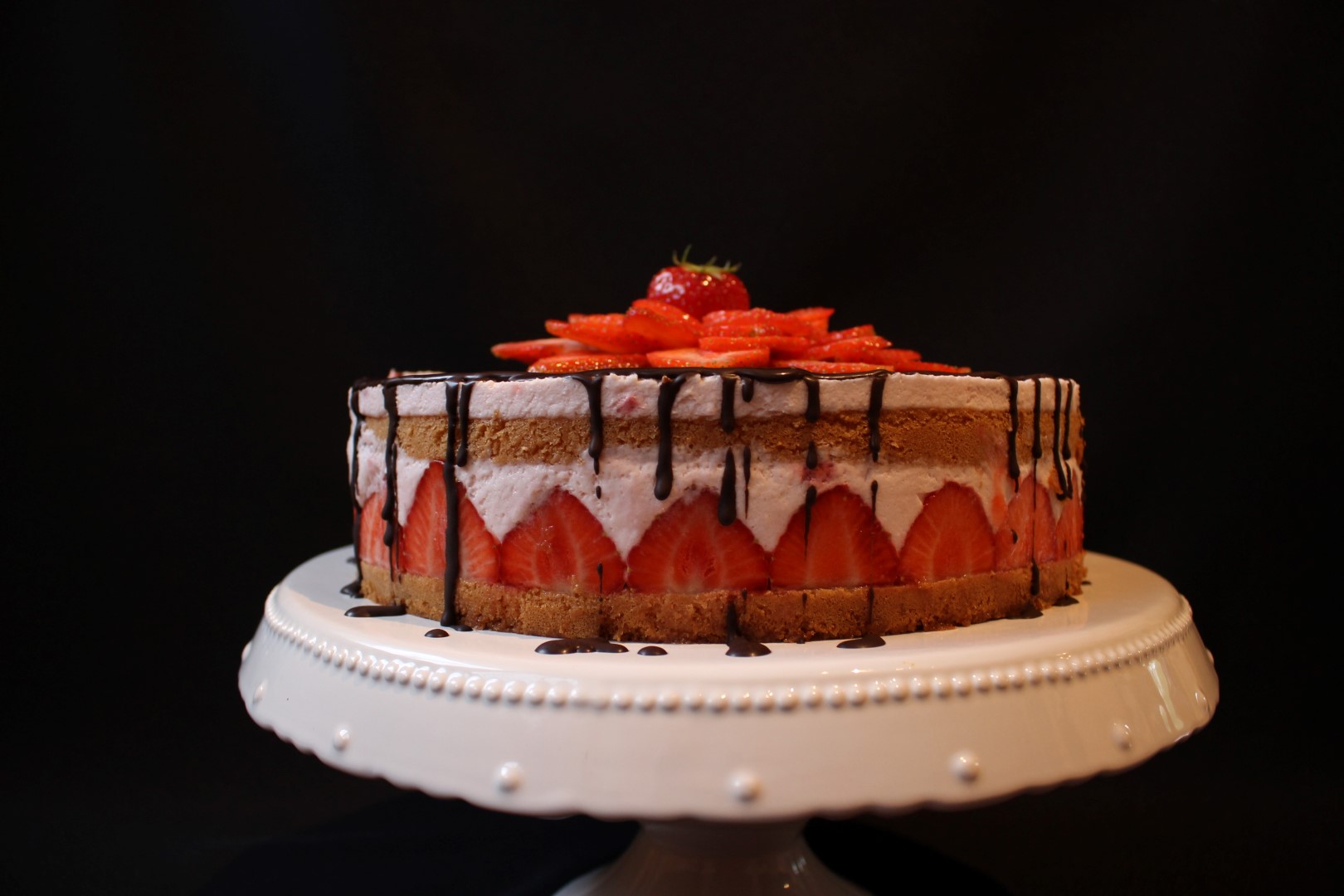 Naked and sexy – naked cake ist in! Hier heute passend für die Frühlingsdiät in der Low Carb-variante 🙂
Naked cake is in! Today I show you a low carb version just in time for your spring diet 🙂
Wie backe ich low carb?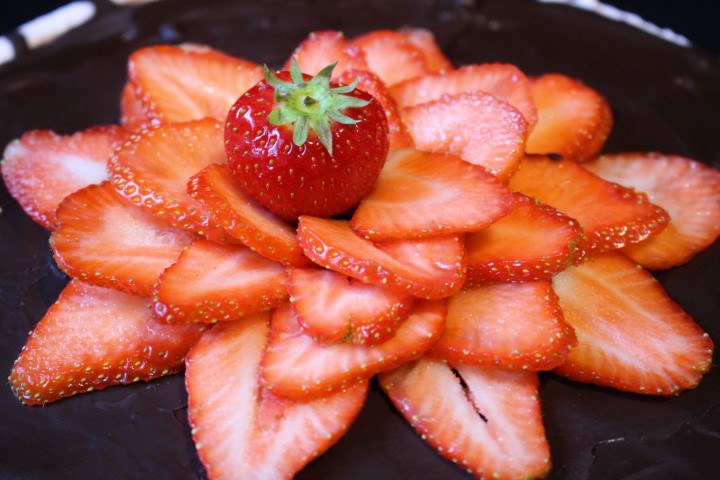 Wo stecken denn eigentlich beim Backen die Kohlenhydrate? Gucken wir uns mal einige typische Backzutaten und ihren Kohlenhydratgehalt an:
So how to bake low carb? Where do all those carbohydrate come from in baking? Let's have a look at some usual ingredients and how much carbohydrates they have:
Eier / egg [1.1g carbs / 100g]
Weizanmehl / all purpose weat flour [76g]
Zucker / sugar [100g]
Milch / milk [5g]
Backpulver  / baking soda [0g]
Wenig überraschend sind Zucker und Mehl die Hauptverantwortlichen. Zucker ist selbst ein Kohlenhydrat, klassisches Mehl besteht zu drei Vierteln hieraus. Der Milchzuckeranteil der Milch ist nicht so hoch, dass er uns stören müsste. Also gilt es beim Backen, Zucker und Mehl durch geeignete Alternativen zu ersetzen. Auch Vollkornmehl hat mit [72g / 100g] nur unwesentlich weniger Kohlenhydrate. Deutlich besser ist Haselnussmehl [10,8g] (zur Verwendung mit etwas Guarkernmehl oder Flohsamenschalenpulver vermengen) oder Mandelmehl [4g]. Mandelmehl ist ein Klassiker für low carb Backen und eignet sich sehr gut. Es unterscheidet sich von einfach nur gepressten Mandeln dadurch, dass es entölt ist und nur 12g statt 55g Fett enthält, der relative Eiweißanteil steigt von 20g auf 36g. Ich habe im untenstehenden Rezept etwas Kokosnussmehl [17,6g] verwendet, weil es so schön kokosnussig schmeckt. Außerdem hat es viele Ballaststoffe [42g] und viel Eiweiß [19g]. Der Zucker lässt sich beim low carb-Backen ganz einfach ersetzen. Ein Beispiel ist Stevia, dass einen kräftigen Eigengeschmack hat. Mein Favorit ist das aus Buchenholz oder Mais gewonnene Xylit (Xucker), das in Geschmack, Dosierung und Eigenschaften Zucker gleicht, aber [0g] Kohlenhydrate enthält, deutlich weniger Kalorien und gut ist für die Zähne.
It is not surprising that sugar and meal are our main culprits. Sugar is a carbohydrate in itself. Standard weat flour is 3/4 carbs. The milk sugar (lactose) count of milk is so low that it doesn't concern us from a low carb perspective. So, to bake low carb we should find good alternatives for sugar and flour. Wholemeal flour would seem a better alternative, but with [72g / 100g] it comes with only marginally less carbohydrates. Hazelnut flour [10.8g] is way better (mix it with a little guar gum and psyllium husks for baking purposes). Almond meal [4g] is a classic in low carb baking and works quite well. The difference to simply squeezed almonds is that almond meal is deoiled and only contains 12g grams of fat as opposed to 55g in squeezed almonds. The relative protein share rises from 20g to 36g. In the following recipe I added some coconut meal [17.6g] due to its nice coco-nutty taste. My favourite is xylitol which is extracted from beech wood or corn. In taste, dosing, and properties it is just like sugar. But it has [0g] sugar, way less calories, and is good for your teeth as well!
Low Carb Biscuit Boden
Wie backe ich einen naked cake?
Zutaten
170g Mandelmehl
30g Kokosmehl
200g Xucker
4 Eier
2 Tl Backpulver
1 Pk Vanillezucker
200g Margarine / Butter
Zubereitung
Boden einer Springform mit Backpapier belegen, Form fetten. Die Zutaten in einer Rührschüssel vermengen, dann mit Mixer auf höchster Stufe verarbeiten. In die Springform geben, glattstreichen, 25 Minuten im Backofen auf 160° Heißluft backen. Dann aus der Form lösen, stürzen, erkalten lassen.
Ingredients
3/4 cup Almond meal
1/4 cup coconut meal
1 cup xylitol
4 eggs
2 tbsp. baking soda
2 tbsp. vanilla sugar
1 cup margarine / Butter
Preparation
Cover the bottom of a springform with baking paper, grease it. Combine the ingredients in a mixing bowl, then blend them on highest setting. Put the dough into the springform, smooth it down. Bake the sponge cake base in fan oven at 320 °F. Then release it from the spring form, turn it out, let it cool.
Wie backe ich einen low carb Naked Cake mit Erdbeeren ohne Zucker?
Zutaten
1  Kg Erdbeeren
600g Sahne
100g Tortencreme-Pulver
200ml Wasser
250g Joghurt
Zubereitung
Backpapier abziehen und den Boden zu zwei Scheiben durchschneiden. Eine Scheibe auf eine Tortenplatte legen. Tortenring drum herumlegen. Erdbeeren waschen, putzen, halbieren und mit der Schnittfläche nach außen rundherum innen an den Ring stellen. Den Boden mit Erdbeeren bedecken. Sahne steif schlagen. Pulver mit lauwarmem Wasser verrühren. Sahne und Joghurt unterheben. Nun eine Schicht der fertigen Creme auf den Erdbeeren verteilen, 2. Hälfte des Tortenbodens auflegen. Eine zweite Schicht Creme auftragen und glattstreichen. Die Torte zwei Stunden im Kühlschrank stehen lassen, dann vorsichtig den Ring entfernen und nach Geschmack glasieren und dekorieren.
Inredients
2 pounds strawberries
20 ounces cream
4 ounces cake cream powder
1 cup water
1 cup yoghurt
Preparation
Remove the baking powder, cut the cake base in half so that you get two discs. Put one disc on a cake plate. Put the cake ring around. Wash the strawberries, remove the green part. Cut them in half and align them along the inside of the cake ring, cut face out. Cover the cake base with strawberries. Whip the cream until stiff. Mix powder with lukewarm water. Fold in cream and yoghurt. Now spread half of the creme on the strawberries. Put second disc on top. Spread the remaining cream on top and smooth down. Let the cake rest in the fridge for two hours. Carefully remove the ring. Glaze and dekorate as you like.
You like the recipe? Would be great to see you share!
 M.D.
DIY
Kuchen
Low Carb